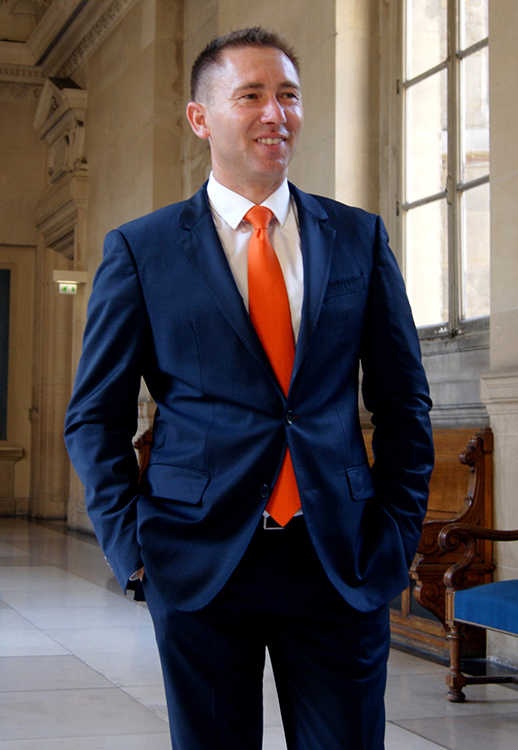 I am a practicing lawyer based in Fréjus-Saint Raphael in the Var on the French Riviera.
With a Master's Degree in Law (Judicial Careers) and Forensic Science and Auditor at the Institute for Higher National Defense Studies (IHEDN), I gained valuable experience in commercial, company, real estate, and banking law. Add to that legal ramifications surrounding companies in financial difficulty. For more than 8 years I worked with a Court Officer for several commercial courts.
Experience that has been reinforced with my Master II in Economic and Business Law Research and furthermore, by supporting a thesis on the subject of "Bank support of a company in financial difficulty according to the Insolvency Act of 26 July 2005".
As a Ph.D. of Law, I also lecture at university as the lead lecturer on Company Law, Contract Law, as well as Property Security Law and Procedural Law.
My all-round experience in banking law and insolvency law gives me solid global oversight (technical, legal, accounting, strategic) of a proceeding, as well as the financial stakes, which are a real priority.
I also conduct in-depth research and legal writing in order to represent my party in front of the varying jurisdictions, which I also put to good use in my university lecturing.
With special passion for economic and business law, banking law and foreclosure procedures, I am more than familiar with the ways and the working methods used in legal institutions, whether it be commercial jurisdictions, bankruptcy judges or Procedural Justice judges.
I like to evolve with each dispute to safeguard the interests of companies in financial difficulty, whether it be individuals or property companies who are often disadvantaged up against financial, economic, and legal institutions.
Avocat – cabinet individuel sur Fréjus, matières prédominantes du cabinet
Droit de la saisie immobilière. Droit bancaire et droit de la consommation et droit des suretés. Droit de l'entreprise en difficulté. Droit de la copropriété. Droit des baux d'habitation et droit des baux commerciaux. Droit immobilier et droit de la construction. Mandataire sportif et mandataire immobilier.
Membre de l'Union Internationale des Avocats – UIA
Formateur et enseignant en Droit – Amris Formation
Membre d'Avocats Sans Frontières
Chargé de projet PADEF – Tchad – Programme d'assistance et d'accès au Droit pour les femmes et les enfants
Intervenant du projet PRODEF – Côte d'Ivoire – Promotion et Protection des Défenseurs des Droits de l'Homme
Intervenant à Var Initiative, aide à la création d'entreprise
Enseignant en droit de l'internet et de l'audiovisuel – IUT St-Raphael
Enseignant en droit processuel – UTV Toulon
Chargé d'enseignement en droit des sociétés et droit des obligations – UTV Toulon
Intervenant UFC QUE CHOISIR
Collaborateur juriste consultant dans une étude Mandataire Judiciaire prés les Tribunaux de Commerce de Saint-Tropez, Fréjus et Draguignan, avec pour mission
Gestion autonome des dossiers en appréhendant l'ensemble des données techniques, juridiques, comptables et stratégiques d'un dossier. Procédures de poursuite d'activité, de plan de redressement, de résolution et de liquidation. Préparation, rédaction des conclusions et plaidoiries en audiences devant le tribunal de commerce, le juge commissaire et devant le Conseil des Prud'hommes. Contestation des créances, bancaires, fiscales, relevés de forclusion, revendications. Procédure de réalisation des actifs immobiliers et mobiliers, fonds de commerce. Procédure de répartition des fonds entre les différents créanciers, états de collocation. Actions en sanction, en responsabilité, en comblement du passif, en recouvrements.
Enquêteur management « client mystère », Masters Consultants – Paris
Intervenant à Prodi Presse – HMP – Lyon, société de presse sur la Cote d'azur
Service militaire embarqué Marine Nationale – BEM MONGE et Dakar (Sénégal)
Doctorat en droit économique et des affaires
Thèse : « Le soutien bancaire d'une entreprise en difficulté après la loi du 26 juillet 2005 » UFR Nice
Master Recherche de droit économique et des affaires
Vice-major UFR Nice
Institut d'Études Judiciaires
Préparation ENM CRFPA UTV Toulon
Auditeur Institut des Hautes Études de la Défense Nationale
IHEDN Paris
DESS Sécurité, Police et Droits fondamentaux de la personne
UFR Nice
Maîtrise de Droit Carrières Judiciaires et sciences criminelles
UTV Toulon
Licence de Droit
UTV Toulon